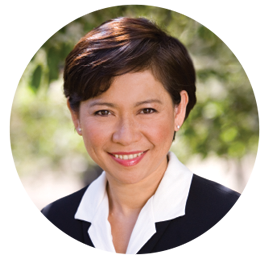 Brand and Marketing Expert for Young and Progressive Companies
Jenny founded her strategic marketing practice in 2004, and brings more than 20 years of experiences as a brand marketer, a communicator, and a consultant, with a passion for helping young and progressive companies in embracing the value of branding and marketing as ways to grow their businesses.
Known for her open and personalized approach to problem solving, Jenny helps companies launch new products, acquire new customers while keeping existing ones, and strengthen end user reach through essential channel partnership.
A Career in High Tech
Educated in California, Jenny started her career working for global, high-tech companies for over a decade. She worked for Intel Corporation in Asia, spearheaded a regional market development team that achieved unmatched, ingredient brand presence for the "Intel Inside" program across 10 countries.
After her stint in Asia, Jenny returned to Intel in the U.S. and held various senior marketing manager positions. Her work cuts across several disciplines, including ingredient branding, channel marketing, advertising, application software demand generation, and Internet marketing.
Before Intel, she worked at British Telecom and managed their regional direct marketing campaigns that supported product launches, branding, and on-going lead generation. She also worked in Product Marketing for General Telephone's data network and satellite communication business units that led her traveling to interesting places in Hawaii and across the U.S.
International Experience
Jenny's career spans from U.S. to Asia. Her strong multicultural, business and consumer marketing background in the high-tech industry prepared her with the tenacity — and passion — to tackle similar marketing issues potentially faced by young start-ups and growing businesses in the technology and consumer sectors.
A Bay Area Icon
She is a member of the Silicon Valley chapter of the American Marketing Association. In addition to her private marketing consulting practice, she serves as a business advisor cultivating entrepreneurial success among start-ups as well as progressive companies for the San Mateo and Silicon Valley Small Business Development Centers (SBDCs). In her spare time, Jenny volunteers and serves as a board member for UC Berkeley's Haas School of Business Silicon Valley Alumni Chapter. Once a year, she leads a Women in Leadership event catered to the Haas Silicon Valley alumnae community.
Jenny received her Bachelor of Science Degree in Business Administration from the University of California at Berkeley. Over the years, she continues to nurture her passion through reading, writing and teaching seminars to small businesses about branding and marketing.